We arrive at Corvara in the dark. The plane was delayed due to a massive dumping of snow on Friday and Saturday morning so visibility was poor. This was just as well as the ski community were waiting patiently for this to happen. In the 2 hour drive from Innsbruck airport to our destination in the South Tyrolean Dolomites, North Italy, the temperature plummeted and a good spread of snow had covered the valley. It wasn't until the next morning, from the terrace of the restaurant at The Sporthotel Panorama that I was able to see this chocolate-box scene. Thousands of pine trees dusted with ice, skiers already whizzing past making the most of the virgin slopes.
At this point I should tell you I don't ski. A ridiculous injury 20 years ago ensured that I'd never be able to wear a hard boot again. My travel companions were the specialists; I thought I'd leave that part up to them. The skiing here is really pleasant, depending on which run you go for of course, but generally it's pretty undulating, easy and great for the novice. The advanced might find the regular runs a bit frustrating but head to the Dolomiti Superski area where 1200km of off-piste awaits you. The skiing is divided up into four main areas and taxis are probably necessary so research your base well beforehand to make sure you're staying where you want to ski most, although there is a 'gondola' between Colfosco and Corvara that you can hop on. Skis firmly left in the rental shop, I dusted off my walking boots and took to the slopes on foot. Taking a ski lift up to Las Vegas (also a great hotel and the perfect place to stay if you want to sleep in the mountains) and walking across to Piz La Ila, there's never a stop off too far away. Although this is one of the lower points, the altitude may still hit you if you're not used to it. I'm a keen walker but even this made me stop and catch my breath a fair few times. Next time, I would take a balaclava as the -4 temperature when the wind stirs even a little really makes your face numb. Wear several layers top and bottom, not forgetting the thermals, and most importantly, don't forget some insulated ski trousers...something I failed to bring. The scenery is amazing and is what skiing here is all about. It's a UNESCO site after all. The views out to the Dolomites are magical and on a clear day the panoramic photo opportunities are endless. Walking alongside skiers and snowboarders tackling the slopes with an easy grace made this a pleasant experience. It was quiet, peaceful, and aside for some tracks made made by a small fox or rabbit, not a living thing in sight. Aside from humans, of course.
Only here for the Apres Ski? Well, Corvara is the place for you. 'Sommelier on the Slopes' priced at 25 euros each, is one of the food and drink initiatives available during ski season. We all know Italy for producing some of the best wines available, but here in the South Tyrol region, they grow the Lagrein grape, the only place it can be found. They've produced wine here for ages, 3000 years to be kind of exact. So why not celebrate this by learning about wine as you ski? Of course, the aim is still to be sensible but with ample rest in between skiing to the next hut you'll be ready for a little more to taste at the next one. Hubert Kastlunger, ski instructor by day, whizzed up to hut number one (you visit 3 huts in a day) in ski gear only to reveal his alter ego as Sommelier, unveiling a dickie bow and apron, although still keeping his ski trousers on, you'll be pleased to know. Hurry as there are 6 dates this season where it's taking place (26 January, 9 & 6 February and 9 and 16 March) and it must be booked in advance with the Alta Badia tourist board. Www.altabadia.org If you happen to be around on the 19 March then join in the Ski Safari where you can try up to 50 wines (yes...really) with a tutored tasting. I'm not sure how you'll manage to ski and drink sensibly so good luck with that one. Don't like wine? Then you can still join in. The popular drink of choice is either an Aperol Spritz or a Hugo, which is prosecco with elderflower and hugely popular. Make sure you accompany this with a classic apple strudel.
Alta Badia also runs a Michelin star dining incentive during ski season. I wasn't sure how this would translate but it turns out the normal food in the huts is pretty impressive so bringing in a Michelin star chef to create a dish is a genius idea. Known as the 'Taste for Skiing' it's now in it's 9th year and judging by the amount of people walking through the door, these huts continue to be full of skiers in need of sustenance. At our time of lunch in Pralongia hut, a man had just been taken ill so the atmosphere was more buzzy then usual as a helicopter landed right next to the hut, whipping the snow into a frenzy and helping the guy out. Here the chefs dish was 'Tartare al coltello di filetto di manzo Vallese bio', which is hand chopped tartare made from Valais organic beef fillet to you and I. You can ski between all 14 restaurants and sample what's on offer. And food isn't just for the daytime, Corvara, and it's neighbouring towns Colfosco and San Cassiano have some great restaurants offering traditional Ladin and Italian cuisine. We had a tasting menu at the Hotel Gran Ander, run by the cheery chef, Andrea Irsara and his wife, they've transformed this cute chalet style hotel into a sleek, glass fronted restaurant complete with an impressive modern wine cellar. The menu we had was quite experimental; hemp tortellini anyone? Or perhaps the slow cooked veal lasagne made from cannellini bean? Over at La Sieia, also in San Cassiano, sit in one of the many differently designed areas (it used to be a Sawmill) and enjoy a cheese tasting followed by dinner. My choice is the calf shin cappaletti, it's to die for. Breakfast with a view in Alta Badia is something worth getting up early for. Get picked up in a skidoo and watch the sunrise over breakfast in one of the mountain huts, either Col Alt or Las Vegas. Book directly with each hut. Cost is 28 euros. Www.lasvegasonline.it www.rifugiocoalt.com
Corvara is sophisticated. It's elegant and super stylish but not in a pretentious way. Even the streetlights are sleekly designed. The cedar wood huts are gorgeous hue of brown and work perfectly against the andscape. There's no garish neon lights, no drunk skiers causing problems (none that I saw anyway) and it's all pretty relaxed plus it's one of the most prestigious destinations on the World Cup circuit. There are no chalets in this region, purely hotels and apartments only. As one of my companions said, "it has all the style of the Italian with the efficiency of an Austrian". I couldn't have put it better myself.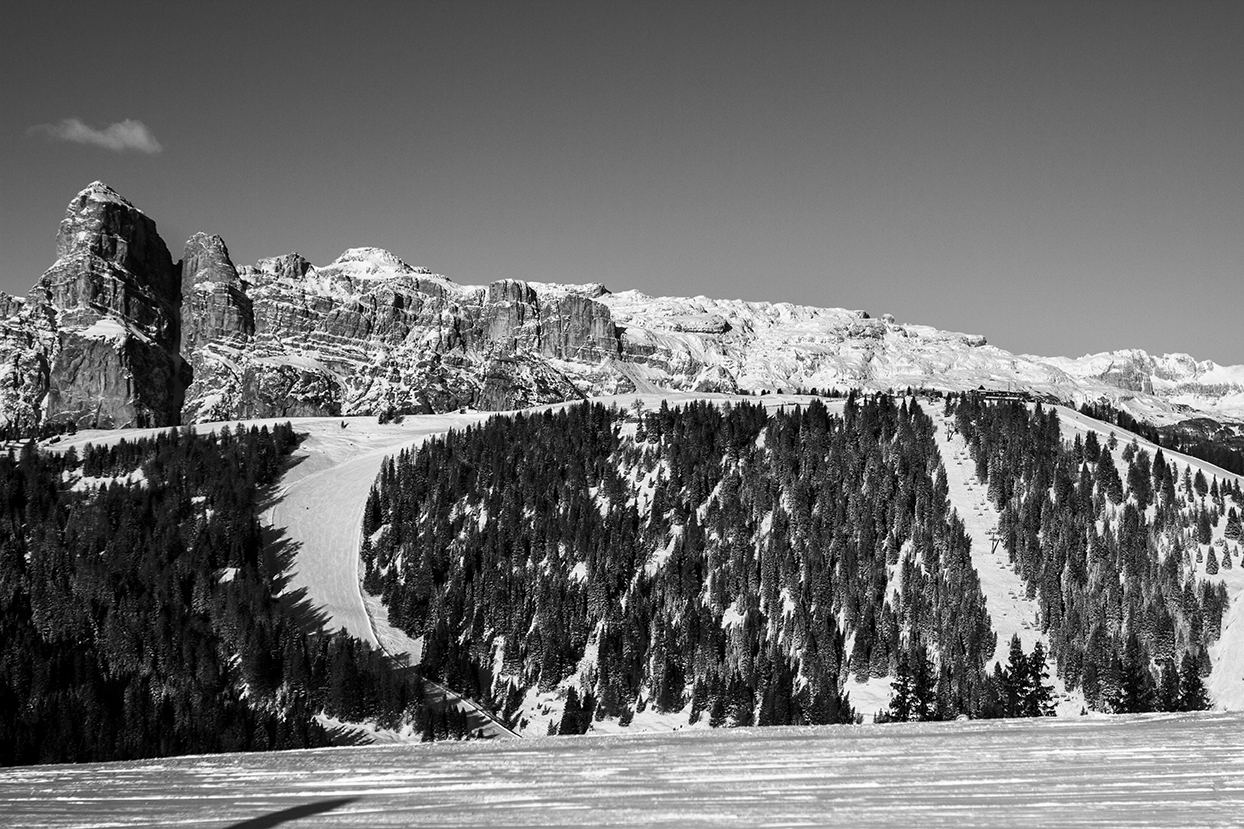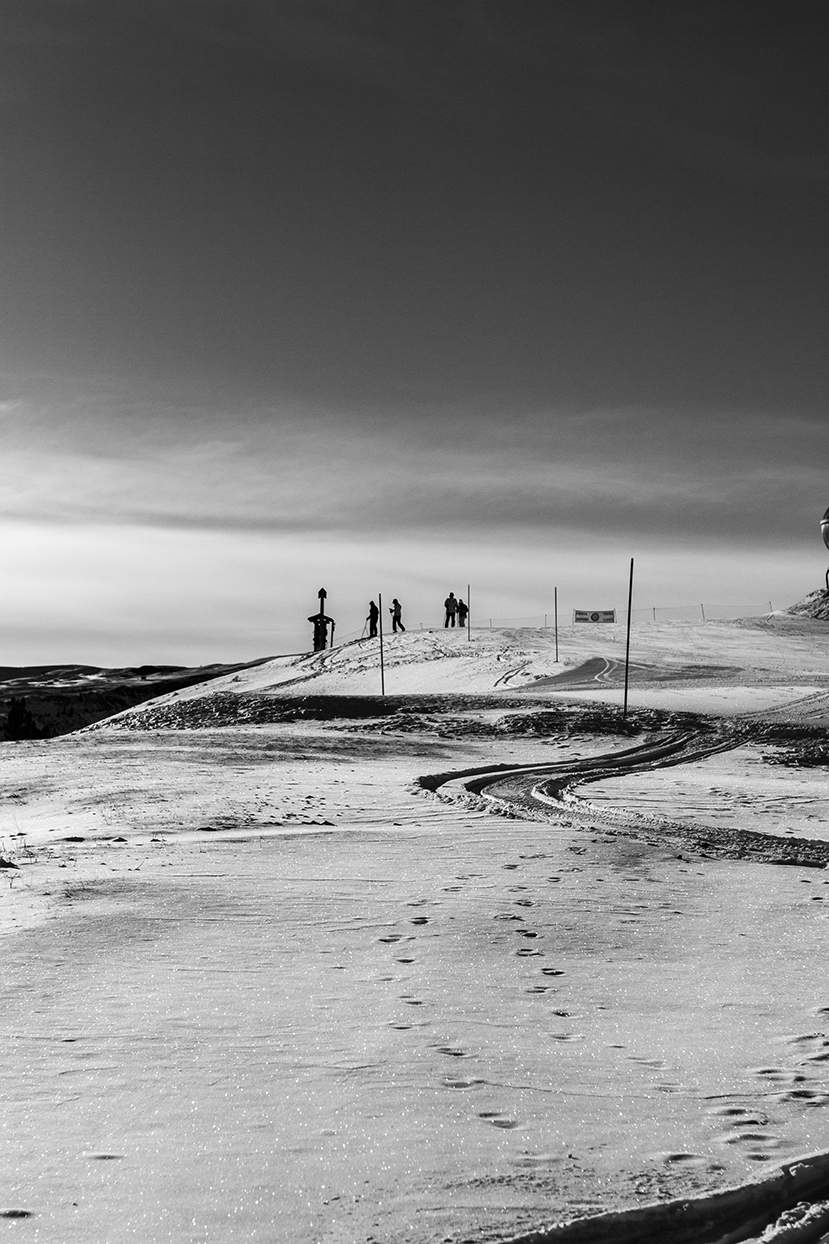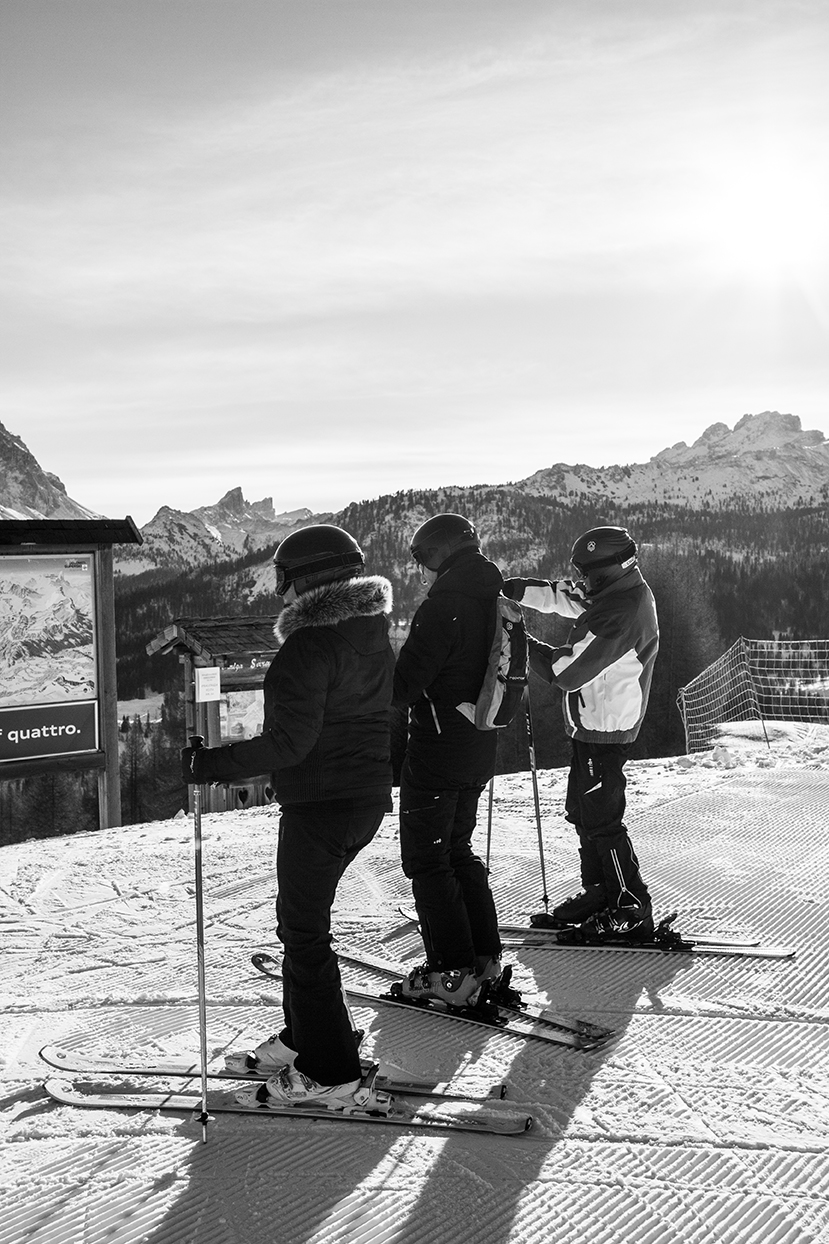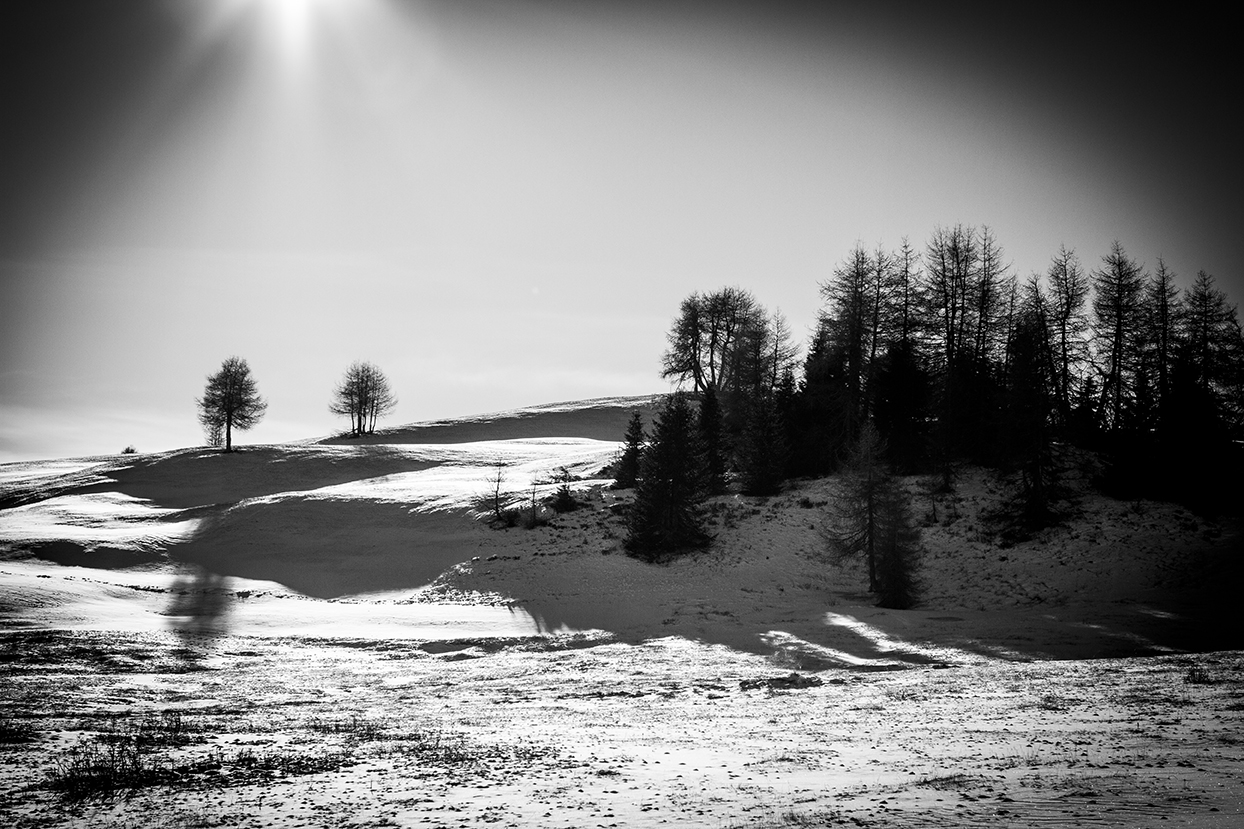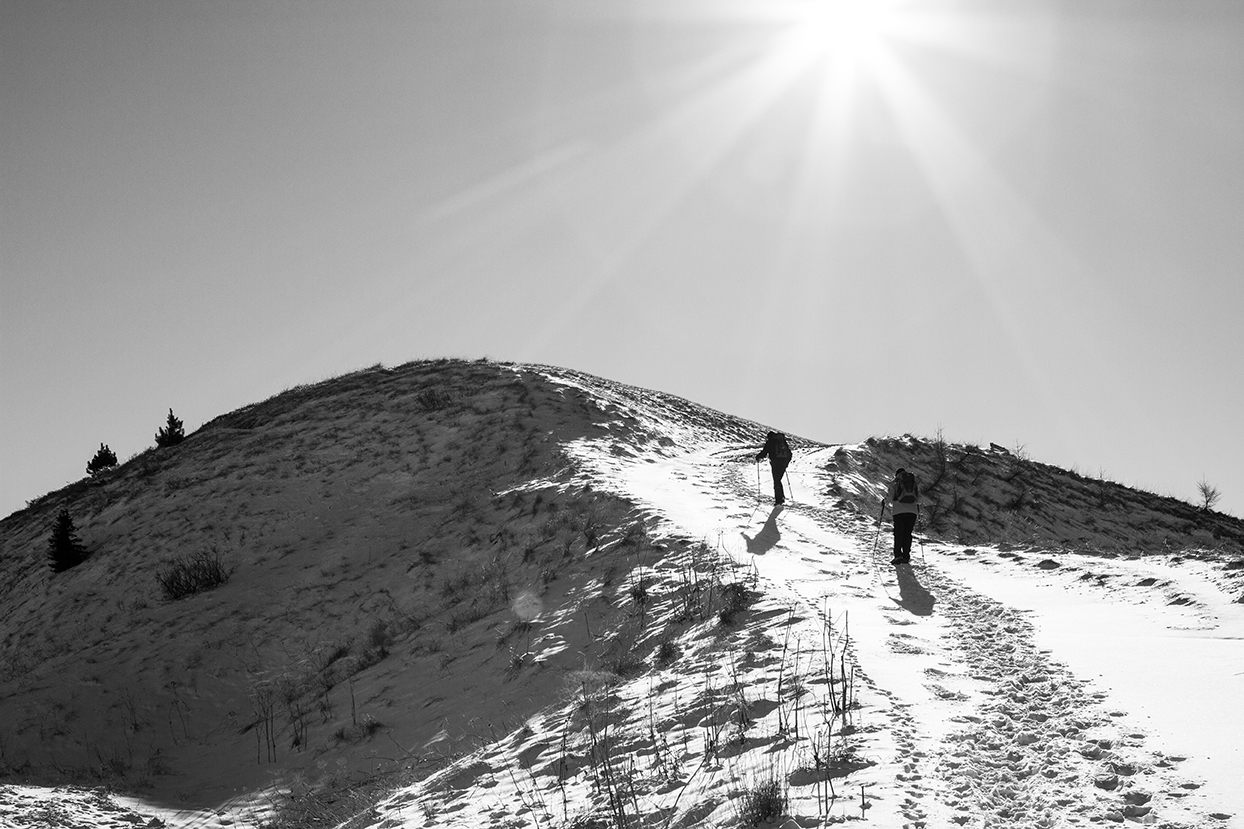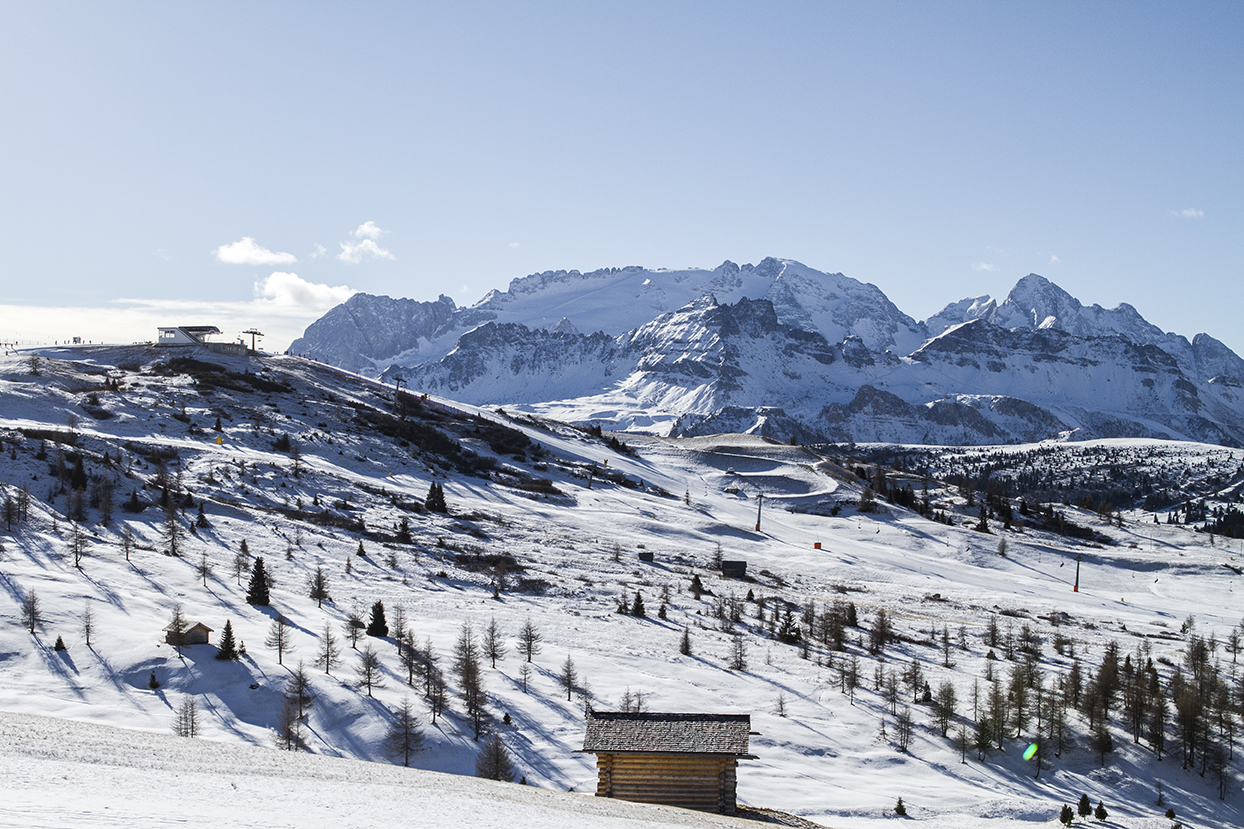 Rooms at Sporthotel Panorama start from €134 per person per night on a bed & breakfast basis. sporthotel-panorama.com / 00 39 0471 83 6083
Airlines including easyJet, BA and Thomas Cook Airlines fly from London Gatwick to Innsbruck, from £26 return, including taxes and charges, with regional departures also available.
Alta Badia is a two hour drive from Innsbruck, with private transfers costing €250 each way for up to five passengers. See: http://www.altabadia.org/en/info-service/getting-to-alta-badia/getting-to-alta-badia.html . It's also possible to hire a car, or there are group transfer services available with 'Südtirol/Alto Adige Bus', costing €90 per person each way, from Innsbruck to Alta Badia. See: http://www.altabadia.org/en/info-service/getting-to-alta-badia/info-service-getting-to-alta-badia-airport-transfer.html
Ski Solutions offers packages to Alta Badia, with a seven-night stay at Sporthotel Panorama from £945 per person, based on two sharing on a half board basis and including return flights to Innsbruck and transfers. Skisolutions.com / 0207 471 7700
An Alta Badia Skipass costs from €121 for a three day pass, or from €213 for six days. This gives access to over 130km of slopes and 53 lifts. There is also a Dolomiti Superski pass which connects 500km of slopes in Alta Badia and the surrounding valleys.
For further information Alta Badia, including details on all events, visit the Alta Badia Tourism Board
website at www.altabadia.org, call + 39 0471 836176 / 847037, or email: info@altabadia.org